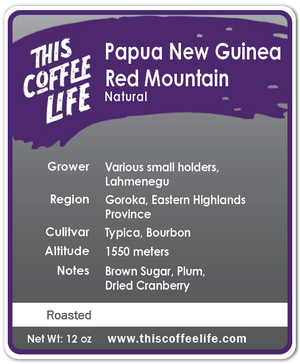 Papua New Guinea Red Mountain Natural
Sale price Price $18.00 Regular price Unit price / per
About the Coffee
Grower:     Various small holders, Lahmenegu
Region :    Goroka, Eastern Highlands Province
Culitvar :   Typica, Bourbon
Altitude:   1550 meters
Flavor Notes :      Brown Sugar, Plum, Dried Cranberry

Papua New Guinea Red Mountain Natural Green Coffee Beans
Genuine Origin's sister company, Volcafe PNG, owns and operates the largest dry mill in Papua New Guinea. In fact, Volcafe PNG is the only Papua New Guinea exporter to own a wet mill. The Lahamenegu Mill, located in Papua New Guinea's Eastern Highlands, serves as an essential link between Genuine Origin and local producers. While most smallholders in PNG process coffee at the farm level, the Lahamenegu Mill allows Volcafe PNG to buy in cherry, experiment with uncommon processing methods, and have a firm grasp over quality control.
PNG green coffee beans are usually wash-processed, but private ownership of a wet mill has its privileges. It means natural (or dry) processed PNG green coffees like this can be made to order. For natural coffee lots, cherry is only sourced from farms that are part of a registered supply chain. The Lahamenegu Mill encourages long-term relationships with smallholders, which in turn maintains production consistency and quality over the years.
Typica And Bourbon Green Coffee
Typica and Bourbon are the two most common arabica coffee varietals and are often the parent plants from which subsequent varietals are based. Their lineage can be traced back to when coffee was first taken from Ethiopia to Yemen. Typica was most likely brought to Indonesia by Dutch traders, who also disseminated the plant further around the world. Bourbon, on the other hand, can be traced back to France's Bourbon Island (now La Réunion), where it spread to Africa via French missionaries.
Quality Papua New Guinea Green Coffee
In 2021, the National Institute of Standards and Industrial Technology (NISIT) revamped the grading protocol for coffee from PNG. A PNG green coffee with an "A" designation should have a balanced, uniform, clean cup with a distinct body, acidity, and aroma.
Natural Processing Method
Only the ripest coffee cherries are used in the natural – "dry" – coffee processing method. The entire procedure requires thorough planning because drying naturals takes time. Coffee cherries are dried whole, without removing any of the fruit, on raised beds for weeks. During this stage, the coffee is turned regularly to increase airflow, support even drying, and to prevent spoilage. After the cherries have been dried, they rest in conditioning bins and are only hulled as the shipment time draws near.
Unroasted Coffee Beans From Papua New Guinea
Out of the nine million people in PNG, around 2.5 million (30%) are involved in coffee. Exports of coffee account for approximately 6% (US$72 million) of the country's GDP, and it's the second leading agricultural product after palm oil. With numbers like that, most people expect unroasted PNG green coffee to be highly valued locally, but production levels tell a different story.