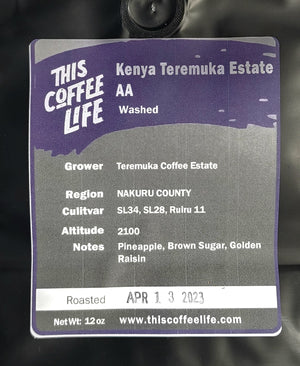 Kenya Nyeri Kiandu AB
Sale price Price $9.00 Regular price Unit price / per
I just want to say I'm a big fan of coffee from Kenya and I have been since early in my coffee career. And this is a very good Kenyan coffee. 
While my tasting notes are pretty simple Coffee Shrub who I purchased this coffee through got a lot more out of it.  But you will have to let me know what you think. I wrote black cherry, turbinado sugar, and bright clean finish. I also only have so much room on my bag to write information. Coffee Shrub had "A complex Kenya with flavor notes of orange spice, caramelizing sugars, black cherry, pomegranate, grape and an aromatic finish of cardamom, all-spice, clove powders." Now they are more than likely cupping with a group of people hence all the descriptors. But taste is subjective and these are subtle flavors that are influenced by how I roast the coffee and how you brew it at home. Here is the essential info.
Region:               Karaunu, Nyeri
Processing:         Wet Process (washed)
Drying Method:  Raised Beds, Sun dried
Varietal: S            L-28, SL-34, Ruiru-11
"Kiandu Factory is located near Nyeri Town in the Karundu area, just outside of Tetu village. When we say "Factory", we mean washing station more or less. Kenyan coffee factories are central coffee collection sites set up to serve the local farmers. Factory members sell their harvested coffee to the Factory they belong to in whole cherry where it is then sorted, wet processed, and then sorted some more while drying in preparation for the final dry milling. Kiandu is one of a few Factories who make up the Mutheka Farmer's Cooperative Society, and the total membership of the society is over 1000 farmers. Kiandu is situated near the Kagumo River, from which water is diverted and used to process coffee. This AB separation stood out to us, boasting floral characteristics that we don't typically taste in Kenyan coffee. "