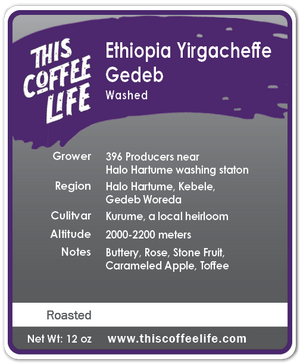 Ethiopia Yirgacheffe Gedeb Washed
Sale price Price $18.00 Regular price Unit price / per
I really love Ethiopian coffee and this is a really good one. I love the delicate stone fruit notes and it has brilliant sweetness. This coffee is hard to beat. 
Ethiopia Yirgacheffe Gedeb
Grower:  396 producers near Halo Hartume washing station
Region: Halo Hartume, Kebele, Gedeb Woreda
Culitvar: Kurume, a local heirloom
Altitude: 2000-2200 meters
Coffee Flavor Notes: Buttery, Rose, Stone Fruit, Carameled Apple, Toffee

Ethiopia Yirgacheffe Washed Green Coffee Beans
Yirgacheffe is a coffee region that needs little introduction. With a mild climate that experiences a lot of rainfall, Yirgacheffe's high altitudes produce fruit-forward, sweet coffees that are prized among coffee drinkers around the world. Ancient coffee varietals dominate the smallholder coffee gardens that are tended by farmers who cultivate food crops to maximize the potential of this region's fertile soil.
Coffee from Yirgacheffe plays an integral role on the broader scale of Ethiopia's economy, bringing in foreign currency and fueling jobs in the coffee industry and beyond. Coffee grading in Ethiopia is based on the combined result of physical qualities and cup qualities. 
.