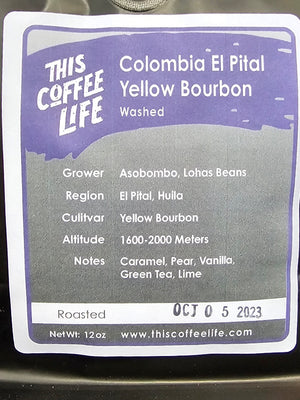 Colombia El Pital Yellow Bourbon
Sale price Price $10.00 Regular price Unit price / per
FLAVOR: Caramel, Pear, Vanilla, Green Tea, Lime
BODY: Heavy
ACIDITY: Medium
PROCESS: Washed & Sundried
Altitude: 1600-2000 meters
Colombian Coffee
This single-varietal yellow bourbon microlot highlights the distinct uniqueness of these yellow coffee cherries. The varietal was first discovered in the 1930s in Brazil and attracted the attention of researchers due to its unusual color and high productivity. A sweet and striking cup profile is also signature of this novel coffee, and the caramel, pear, vanilla, green tea, and lime notes of this ASOBOMBO-produced microlot are accentuated by a pronounced acidity and heavy body.
ASOBOMBO comprises 170 young producers bent on bringing generational change to Huila's coffee community. Nearly half of ASOBOMBO's producers are women. The group's power is rooted in their unity. Everyone works together as one to strengthen their land with both traditional customs and modern approaches to agriculture. Their smallholder farms are nestled in the south of Huila, near the majestic Salto de Bordones waterfall, at altitudes ranging from 1600 to 2000 masl.
The Huila region is always a favorite when it comes to Colombian coffee. In addition to high-quality – often award-winning – coffee, Huila is also celebrated for its distinct cup profiles that feature bright acidity, sweetness, and fragrant aroma. As Colombia's largest specialty coffee-producing department, Huila's nutrient-rich volcanic soil bears highly anticipated coffee each year for the global market.
Colombia boasts an extraordinary array of microclimates that all lend themselves to an incredible variety of high-quality coffees. The country traditionally produces washed green coffee, with individual farms conducting their own primary processes of pulping and drying coffee cherries at the farm level.